FireMagicStore.com was created to make your shopping experience for quality Fire Magic grills, parts and accessories an easy one.
All of our Team Members are highly trained to have a comprehensive understanding of a single manufacturer's product line. With dedication like this to a manufacturer and a firm belief that a satisfied customer is the foundation of our business, we are committed to bringing a personal touch to an otherwise non-personal transaction. Feel free to contact us and see for yourself what our friendly and knowledgeable sales staff has to offer.
Our promise: If you are not 100% satisfied with any part of our service or products, or just have a simple question, feel free to contact me personally and I will see to it that your expectations are met.
Thank you for visiting, we appreciate the opportunity!
Lloyd Knevelbaard, President
FireMagicStore.com
1430 Royal Palm Beach Blvd
Royal Palm Beach, FL. 33411
(561)792-5626
sales@firemagicstore.com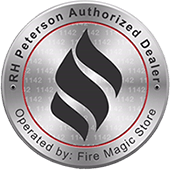 have questions?
We Can Help

Call
Us

Text
Us

Customer
support
Copyright © 2023, FireMagicStore.com, All Rights Reserved